Successful premiere for iT Engineering Manufacturing Solutions in Würzburg
On June 15, 2023, the top-class conference "More efficiency in the pressing facility" took place at the Vogel Convention Center Würzburg. We were present at this renowned industry event for the first time with our booth in the exhibition.
The many visitors were able to inform themselves directly on site about the numerous possibilities of the digital factory with our MES Software EMC. Thereby, our trade conference highlight "digital tool maintenance" was clearly in the focus of interest.
Our highlight: Digital tool maintenance
The digital networking of manufacturing, planning and toolmaking offers enormous potential in the press shop or stamping plant of tomorrow to simplify processes and significantly increase manufacturing efficiency. Machine downtimes due to unplanned tool maintenance are a thing of the past.
With the help of our EMC Maintenance module, tool maintenance, repairs and servicing, including all components and spare parts used, can be neatly scheduled, carried out and documented in the digital lifecycle card both manually and according to individually predefined maintenance cycles. This enables high technical availability of machines and tools as well as peripherals.
Thanks to the smart networking of tool maintenance with planning and production, the planner also knows the current tool status at all times. Upcoming maintenance and current repairs are automatically integrated into detailed planning, thus ensuring realistic and smooth production processes.
Toolmaking also benefits: The tool department is continuously informed from planning when which tool is needed and what maintenance is due.
So there are many reasons to rely on the digital factory of the future today rather than tomorrow.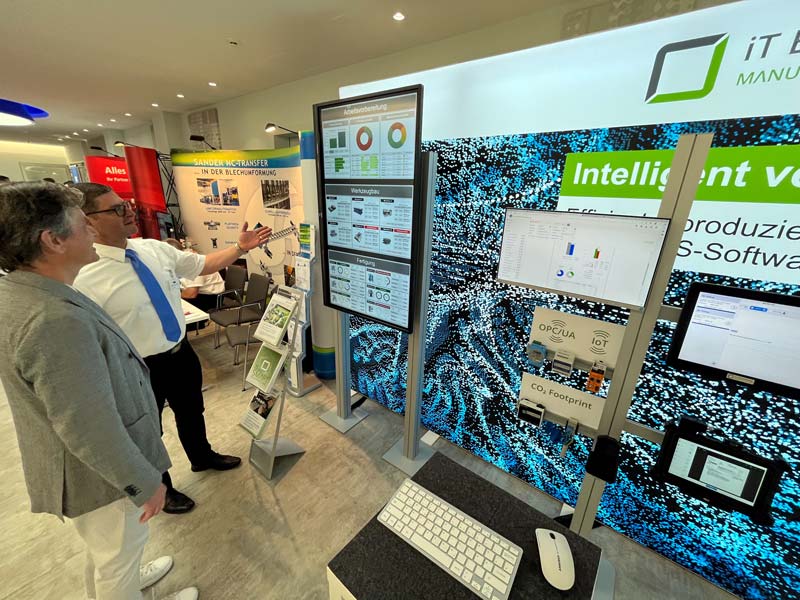 For around 30 years, well-known companies from the wire and forming industry have relied on our MES Software EMC and our industry experience. We know exactly how companies tick and how we can successfully implement the digitization of your production easily and without great effort – piece by piece or holistically.
We would like to take this opportunity to thank the Vogel Communications Group for this innovative, top-class and superbly organized event in Würzburg.
You missed the conference "More efficiency in the pressing facility" and would like to get more information about digital tool maintenance with EMC? Make an appointment directly.
You can find out more about our services for the digital factory here.
For more information on the conference "More efficiency in the pressing facility", please visit www.effizienz-im-presswerk.de