Bundle important information and make it available
The simple and digital provision of relevant information and documents for each order has a decisive impact on the efficiency of manufacturing. For this purpose, EMC KnowledgeBase provides all documents and information on the production of the order. Digitally and at the push of a button, directly at the MES terminal on the shop floor or mobile on a tablet.
The employee adds his experience and information directly on site. Thus, the collected knowledge is available anytime and anywhere. In addition, this not only saves each employee a lot of time that would otherwise be spent searching, finding or printing out the necessary files, drawings or instructions. It also enables virtually paperless manufacturing. Without separate printouts or physical order folders.
Bundle information
The current document in the right place: Merge existing documents, from a server or in a document management system, and display them directly in production without paper at the MES terminal.
Article data, drawings and more can be called up digitally at any time for each article produced. Separate order or article folders with printouts of this information are thus obsolete.
Documents important for the machine, such as lubrication schedules or drawings, are stored for the respective machine. The machine setter does not have to dig through documents, but has quick and efficient access to the information and documents required for his work.
Paperless manufacturing through efficient provisioning and additions
In addition to providing the specifications for manufacturing the article, the employee supplements the specifications with his or her experience and setting values: Ongoing, digitally and directly on the shopfloor.
This is how knowledge is created …
… that is available exactly where it is needed. Without leaving their place at the machine, the worker can simply enter, supplement and expand their knowledge with new information on the order, article and machine. This knowledge is thus available for the next work steps, other employees or the next orders directly and without detours exactly where it is needed. This is how the paperless production of the future works.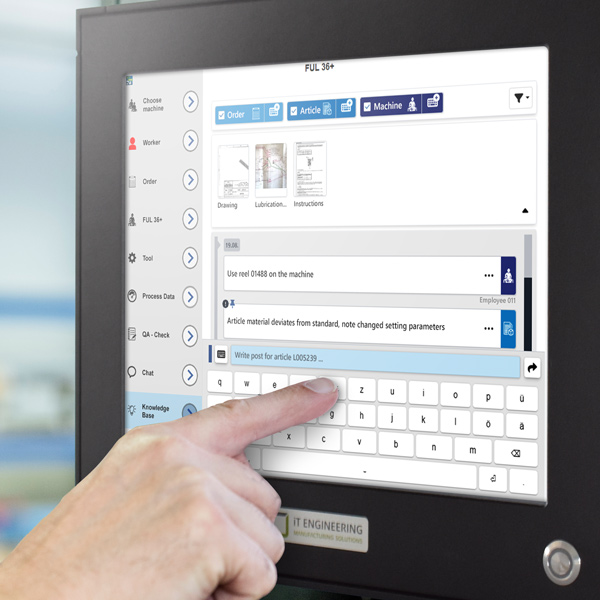 Important information available everywhere
All stored and added information can also be accessed at any time via the EMC Portal module of the MES Software EMC and in the ERP system by export.
Retrievable via QR code
You can also use the stored information directly for the clear, digital labeling of parts and containers. For example, by allowing the information to travel with each container and retrieve it at any time via the QR code.
This eliminates the need for goods slips, which are usually printed out and filled out by hand for all containers. The content of the goods label created and printed directly from the system can be configured individually. In addition to the order and container number, it can also contain the number of pieces, the current and next work sequence, and other information relevant to your production, such as the location.