Smart traceability in manufacturing
Automated labeling and localization of containers in production
The EMC Factory Logistics module enables reliable traceability in production and replaces the countless printed and manually filled out container labels. As a building block of the digital factory, the module offers more convenient and, above all, more reliable options for labeling containers and traceability in production – automated, as a digital container label. In addition, the seamless traceability of products, batches, and processes enables predictive quality inspection and quality assurance in production.
The container label 4.0 is the building block of paperless manufacturing.
iT Engineering Manufacturing Solutions GmbH
Container label 4.0
Print out the container label directly at the machine, manually or automatically by the machine or a container changer. The quantities are transferred from the machine data acquisition.
Create container label easily
In the designer of the module of the MES Software EMC simply create the container label. Automatically 1D/2D barcodes are generated. You do not need a barcode printer, the output is done with all printers under Microsoft Windows.
The container number is the requirement for localization
In EMC Factory Logistics, each container is assigned a unique container number, either specified by the ERP or generated directly at the MES terminal on an order-related basis. After completion of the order, the container is emptied and assigned a different identification for the next order. This makes it easy to locate each container (at the machine, in the intermediate storage, …). Typically, the container identification is done via barcodes, QR codes or RFID.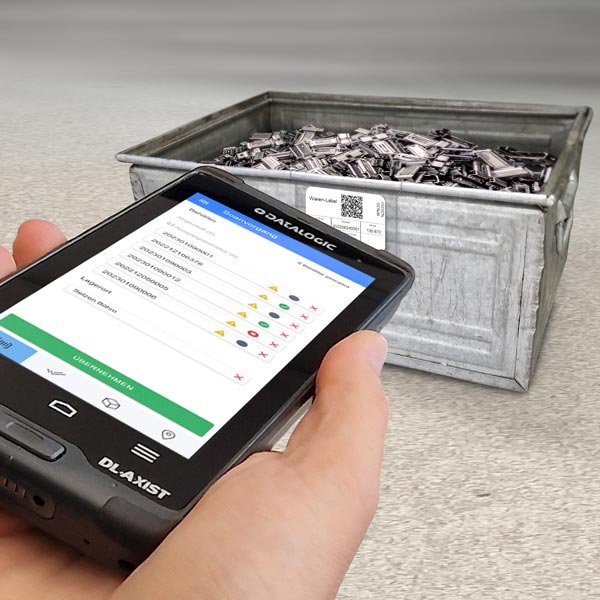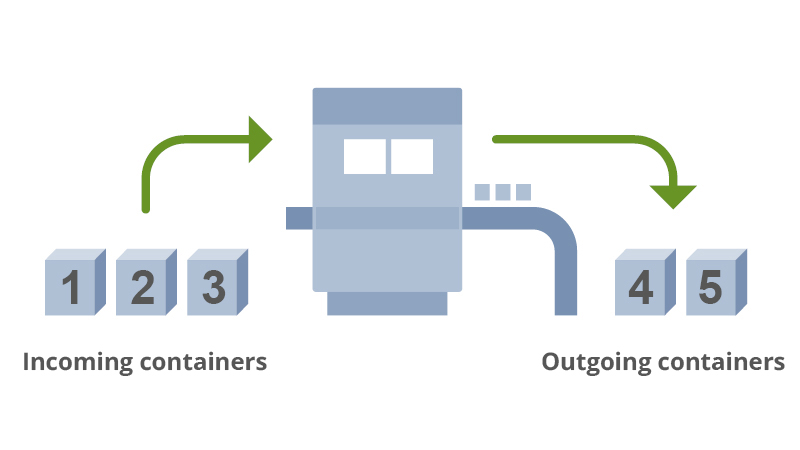 Instralogistics 4.0:
Container and transport organization
For each work step, the containers are clearly marked and registered as incoming or outgoing containers – including the individual work steps and intermediate storage.
Management of the containers for the operation of an order
For each work step of a production order, the incoming and outgoing containers are stored and managed.
Know where the parts are
For everyone, the location of semi-finished parts is transparent. This enables reliable traceability of products and batches. The search for the containers has come to an end.
Paperless and digitally identifiable
In the digital factory, in combination with the EMC KnowledgeBase module, additional stored information can travel with each container in addition to the unique identification. By scanning the QR code, the same drawings, information and documents can be obtained at any time. This guarantees maximum transparency, efficiency, traceability and contributes sustainably to quality assurance in production.